A major rendezvous for emerging creation, ManiFeste-2013, the Academy offers a new context to the spirit of the Acanthes Center: a multidisciplinary context where music meets with the other temporal arts. Beyond the composition workshops led in 2013 by Magnus Lindberg, James Dillon, and Yan Maresz, the multimedia field has been expanded to include the In Vivo Dance program for 4 choreographers supervised by Thierry De Mey and In Vivo Video created in collaboration with Le Fresnoy and led by Andrea Cera. Studying how to edit film, a musical form or choreographic project, practicing and analyzing the 20th century repertoire, discovering a new generation of stage designers (In Vivo Théâtre led by Heiner Goebbels) and performers (Ensemble de la Lucerne Festival Academy led by Heinz Holliger)…
In june musical creation meets its alter ego.
Associated Events
The Academy also offers a series of associated events freely open to all the students: a workshop for composers on vocal writing of the 20th century led by Barbara Hannigan, analysis of their works by guest composers, premieres of works created during IRCAM's Cursus 2 program, In Vivo Théâtre with Heiner Goebbels' stage design students, a performance workshop led by Heinz Holliger with the Ensemble Lucerne, a conference and concert focused on Mantra by Stockhausen with Jean-Frédéric Neuburger et Jean-François Heisser. In addition, concerts presenting the works by the invited composers, experimental creations straight out of IRCAM's laboratories and, finally, the inauguration of an "open space" to encourage informal meetings and activities amongst the students.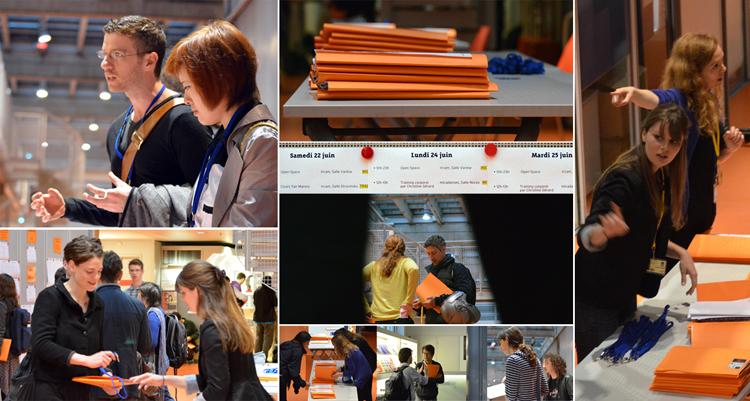 Four major partners have come together to implement the Academy: the Ensemble intercontemporain (the permanent associated ensemble for the Academy), the CENTQUATRE, the Orchestre philharmonique of Radio France, and the Centre Pompidou (the Spectacles Vivants department). This second edition is supported via the presence of important figures in the domains of culture and higher education: the Paris Conservatory (CNSMDP), the Council on International Education Exchange (American universities), the Bouffes du Nord Theater, the Lucerne Festival Academy, Charleroi Danses, Micadanses, the Studio Le Fresnoy, as well as the European Culture project: Ulysses Network.
With the support of the Fondation Orange
The Fondation Orange supports the voice workshops during ManiFeste-2013, the Academy, an artistic activity that promotes the professional training and careers of young artists.